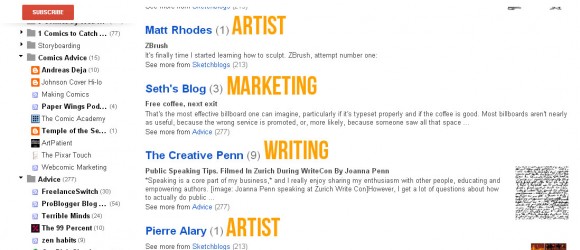 Self-publishing comics is not a route for the lazy.  I'm sure you can get away with exerting the minimum amount of effort but you shouldn't expect blockbuster results and immediately at that. No, pursuing this endeavor requires patience, an open and curious mind and the willingness to experiment and take on unique challenges.
To understand how to be good at it, you have to learn about the different components involved and how to do perform well in each of them. I'm still figuring out many things myself and feel it's a continued learning process. The good news is that they are not usually mutually exclusive and achievements in the beginning can create a snowball effect for the future.
Read More

»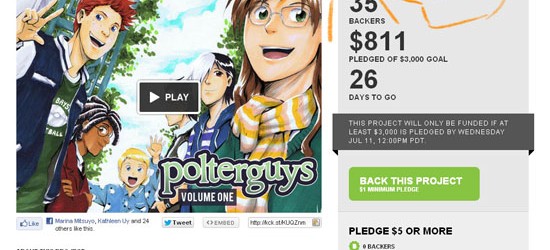 Running a crowdfunding campaign through websites like Kickstarter or IndieGoGo can be incredibly exciting and rewarding. There is a genuine rush seeing friends, family and yes, even complete strangers provide monetary support for your creative project.  It's especially empowering for a beginning creator who doesn't have the financial backing of a professional publisher and must publicize, produce and sell their beloved works out of their own pockets.
While I think there are far more exhaustive posts on the subject out there, I'm interested in sharing the steps which I felt really worked for Polterguys' campaign. I've witnessed the benefits of following these bits of advice firsthand and I truly believe with hard work and patience, anybody can achieve the same results.
Read More

»
Polterguys update
I was wondering how I was going to approach this post because coming into this project, I knew I'd make the mistake of announcing something and was going to have to revise it. It makes me think I should set up some kind of rewards system every time I run into technical issues like this. (Oh, you guys are going to be so spoiled! XD) I'll set up a new request post on DA and tumblr.
If you've been keeping up with me on Twitter and DA, you're probably aware of the state Polterguys is in. I just completed the first draft of thumbnails for the book and showed them to my editor (i.e. Nathan) who says, they need work. Not just cleaning up work as thumbnails need but actual story-rehauling (this-isn't-going-to-be-easy) work.
Which puts me in a bind, you see, because I had previously announced this Polterguys entity to be an online series that would start in mid-July. I had originally envisioned completing a chapter each month and publishing them subsequently but I couldn't get a grasp on the book as a whole, cohesive story. As they say, the best laid plans of mice and men often go awry! I was advised to thumb the rest of the book and treat it like a standalone story. Admittedly, I'm sure not everyone else treats their comics in a similar way but I think it was a useful note for me personally because I've never been that strong of a writer.
So, that leaves me in the nebulous place of rewriting: a dark, lonely territory especially for a new writer. I venture forth somewhat reassured that the next state form Polterguys Vol. 1 becomes will be stronger and better than it's previous incarnations. I thank you for your patience and hope you stick around to see how it comes along.
Art updates
In the meantime, I leave you with two recent pieces. A small tribute to the legacy of Harry Potter as you can see above and fanart of Tony Cliff's  delightful Delilah Dirk below.
Webcomic Recc
I just started reading The Fox Sister, a new webcomic by Christina Strain and Jayd Aït-Kaci (AKA Chira) the same artist for Sfeer Theory. I've been a fan of Chira's fluid and dynamic style since I first saw her Bleach fanart pieces on Deviantart. From there, I watched as her manic and often hilarious doodles and fancomics boosted her confidence as a fantastic character designer and brilliant storyteller. The Fox sister starts off with a dramatic bang and I can't wait to see what the creators have in store for us.