Welcome to Laurbits.com! The online blog and portfolio of Laurianne Uy
Bio:
Full Name:
 Laurianne Uy
Nicknames:
 Laur / laurbits / laurchan / psychoe
Contact:
 laurie.uy [at] gmail [dot] com
Laur has been helplessly drawing comics since 1997 and has had her works published in high school and college newspapers. She served as an award-winning contributor and as Arts & Graphic editor for Chabot College's The Spectator.
Laur may have attended UC Berkeley as a History of Art major but cheated the system and wrote her honors thesis on manga and female representation as seen in CLAMP's X/1999. She helped curate student exhibitions and interned at art museums while working as a freelance illustrator and graphic designer.
Offsite Links
Awards & Achievements
Nominated, Best New Talent 2013 Stumptown Comic Arts Awards – Polterguys Vol. 1
Recipient, Xeric Grant 2012 – Polterguys Vol. 1
Winner, Dark Horse's Inspired by Manga Contest 2012 – The Dark Horse Fan
Finalist, Yen Press New Talent Search 2011 – Final Track
First Place, On-the-Spot Editorial Cartoon, 2004 JACC Annual California Conference
First Place, Mail-in Advertising, 2005 JACC Northern California Conference
Third Place, Graphics Illustrations, 2003 Bay Area Collegiate Newspaper Contest
Journalism Award for Excellence in Graphic Arts 2003, Chabot College
On-the-Spot Manga Contest, Anima Anime Week 2001, Makati, Metro Manila
Gallery Appearance
"I am the Art Show, Deal With it" The Legend of Korra Art Show Monk Space, March 23-24, 2013 – Press Release / Related posts   
 "Six Seasons and a Movie Art Show" NBC's Community Art Show, Monk Space, June 23-24, 2012 –  Press Release / Related blog posts / Photos
Favorite Artists:
Yusuke Murata (Eyeshield 21, One Punch Man)
Hiromu Arakawa (Fullmetal Alchemist)
Naoki Urasawa (20th Century Boys, Monster, Pluto)
Gurihiru (Avatar the Last Airbender: The Promise, Thor and the Warriors Four)
CLAMP (Card Captor Sakura, Magic Knight Rayearth, Clover)
Linda Medley (Castle Waiting)
See more of my favorite artists here >>
Polterguys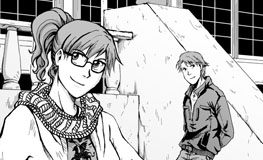 I completed my first published graphic novel in July 2012 and it was awarded the final Xeric grant the same year.
Learn More

»
Manga Resources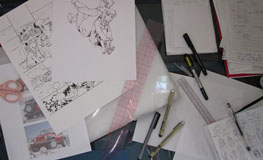 Helpful blog posts on processes, tips, and resources about creating comics.
Learn More

»
Newsletter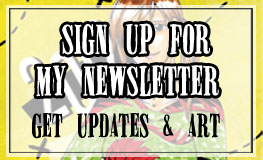 Want to keep in touch but don't like RSS? Subscribe to my monthly newsletter and get all your updates in your email inbox.
Learn More

»
Images are Copyright © Laurianne Uy unless otherwise noted