Do your homework.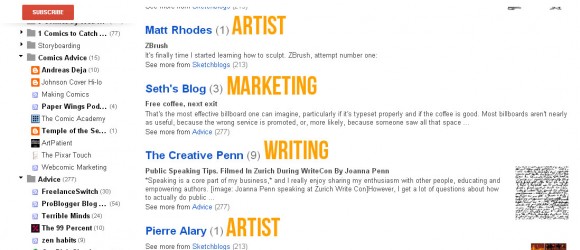 Self-publishing comics is not a route for the lazy.  I'm sure you can get away with exerting the minimum amount of effort but you shouldn't expect blockbuster results and immediately at that. No, pursuing this endeavor requires patience, an open and curious mind and the willingness to experiment and take on unique challenges.
To understand how to be good at it, you have to learn about the different components involved and how to do perform well in each of them. I'm still figuring out many things myself and feel it's a continued learning process. The good news is that they are not usually mutually exclusive and achievements in the beginning can create a snowball effect for the future.
1. Read voraciously.
The screencap above is the front page of my google reader feed. Right before production time, I was following about 206 blogs via RSS. They are a mix of webcomics, artist sketchblogs, podcasts, and feeds about writing, marketing and self-publishing. Before you go nuts, let me tell you that I don't keep up with every item in those feeds everyday. Google Reader is just a way for me to browse website contents in an organized place. But why on earth should you bother keeping up with all these different sites? What's the point?
Writing > Marketing > Producing > Funding > Selling
Established webcomic artists who self-publish their own material are able to do all these steps on their own without the help of a major publisher. Isn't that amazing? Wouldn't you like to learn how they do it? Well, the best way you can understand how they work their magic is to not only read their posts and any tutorials they offer but also provide yourself an understanding of how publishing works in general.
In this way, Jason Brubaker the artist who created Remind was like an online mentor. When I heard about his first Kickstarter campaign for his comic, that was my introduction to the world of self-publishing and crowdfunding comics and I became fascinated. His work is not quite like mine but I started wondering if I could adapt the same model and use it for my own stories. I needed to analyze the "process" to see if it's something I could do myself!
2. Research extensively.
In addition to reading widely, I also felt I needed to gain more knowledge on specific subjects. For instance, early on in my project the notion of self-publishing was still very new to me. Yes, I've created short comics to sell before but what did it take to create a professional-quality book? I made constant trips to the library and looked up recommended primary resources such as Dan Poynter's Self-Publishing Manual and Ross & Collier's Complete Guide to Self-Publishing. I also looked up webcomic resources and podcasts to see how best to launch and feature Polterguys on my website. You'll find that not everything you read up will pertain to your needs, so feel free to pick and choose ideas and strategies from these different places for your own use.
Last year, I also managed to observe one of my favorite sibling creative teams Katie and Shaggy Shanahan fund their comic Silly Kingdom on Indiegogo. I participated in their campaign from start to finish and got to see it in action (and received a superbly adorable comic, too!) I googled and read up on any advice for running Kickstarter campaigns and I wanted to answer questions like, what makes a campaign successful and when might it fail? When you know what to look out for, you can do your best to avoid them in your own project.
Finally, in digging around for resources, I also came across the Xeric Grant as another alternative source of funding. Jason and Lars Martinson, whose self-publishing videos were featured on the Remind blog, are both recipients of the grant. I felt it was worth pursuing just in case my Kickstarter campaign failed. Now, you may be surprised with the sudden pessimism but it's important to think of worst-case scenarios. Because only about 44% of Kickstarter projects get funded, I knew I still had to come up with a way to finance my print run in case I couldn't get it through crowdfunding.
This is why research is so important. You really don't know what to expect unless you see how and why things are done a certain way. It's better to ask "Why, what for?" now instead of "What happened?!" later.
3. Practice constantly.
Acquiring knowledge is pretty useless without putting skills to practice. Also, just reading up on all of this stuff gets pretty overwhelming sometimes. Besides, all your marketing and self-publishing efforts become useless if you don't continuously work on improving your own art. So don't forget to practice- everything! It's a constant balance. There are those who say completely ignore all of social media, networking and business-related items and just concentrate on the art. I've never been an extremist and feel that focusing on just one aspect doesn't work for me.  It may be that you're more interested in having a publisher pick you up, but in my experience there is not a lot of options out there for artists working in a manga-influenced style. That's why I'm working my butt off because there's no other avenue for me at present.
But, seriously, how can you possibly find the time to do all this?
RELAX! It's not about mastering everything all at once. It goes without saying I think but you're in this for the long haul. Don't expect to read about kickstarting today and launch a campaign tomorrow unless you're already an established brand. But what if you want to just do this for fun? I'm not in this for the money, you say! See, that's the incredible part. Self-publishing can get costly pretty fast. Expensive printing costs or paying for advertising can deplete the bank if your audience doesn't respond to your efforts.
But when you know what you're doing and why you're doing it, you come across as competent and confident, someone people are more willing to trust, believe in and support.
This post is part 1 of my blog post series, How to Run a Successful Kickstarter for your Manga.