When I heard about Yen Press' New Talent Search last November, deep down in my gut, I knew I was ready. I've been honing my craft year after year, challenging myself to do more, do better each time and finally, this was the opportunity I've been waiting for.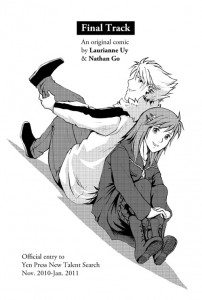 I ate, slept and breathed manga for two whole months, sought feedback at every junction to improve my work and even used up my vacation hours through Thanksgiving week to make sure I could submit something I could be proud of.
When I was laid off in December, I thought "This isn't so bad. Time to work on the art! I should be hearing from YP soon anyway!" Well, I waited…and kept waiting. I did use that time to push myself creatively and work on my writing but there was a lot of obsessive inbox refreshing. I won't lie, I was banking on starting my new art career this year. It may have been utter naivete but I believed in the work and in myself.
On March 25, I finally got an e-mail. It said 'the wait is over', 'I had potential' and 'the editors will be contacting you in the next few weeks to provide feedback.' At this point, any response would have triggered the jumping and joyful squeals, as you can imagine. Self-taught artists just don't get enough validation, I guess.
I got to know my fellow finalists online and sought other people's submissions, offering my feedback if they wanted it. There was a general sense of excitement and possibilities. But when Yen Press' latest issue rolled out, the Editorial Letter essentially stated that none of the artists contacted were up to the magazine's standards. I felt the world shift under my feet and my future was now left completely uncertain again.
Mid-way through May, I've distanced myself enough from what happened to analyze and understand my disappointment, my misplaced hopes. In retrospect, there was never anything in the search guidelines about guaranteed publication, contracts or anything of that sort. A bitter lesson for me but one that was necessary to get me where I am now.
So what changed? A little maturity, some knowledge gleaned from looking around and reading up on the comics industry and the realization that if what I truly want is to see my work in print and share it with as much people as possible, there really isn't a need for a middleman to do that! I have all the tools at my disposal and a burning desire to share my stories. I'm not saying this is the same path anyone who's been ever rejected by a publisher should take! Self-publishing definitely isn't for everyone, as I'm learning in my research into it. It isn't going to be as easy but the rewards are going to be much better.
It's going to take a lot on my part but I feel like I already have what it takes to create something meaningful and share my stories with people. I want to oversee the creation of a tangible, physical product- something that has my name on it and I can be proud of.
Conan O' Brien recently posted his Dartmouth College 2011 Commencement Address. (which is pretty hilarious by the way, and worth the time to watch it all the way through) Towards the end, he says a few things regarding his own personal career disappointment that struck a chord with me in light of my own experience.
It's not easy but if you accept misfortune, handle it right, your perceived failure can become a catalyst for profound reinvention.

Whether you fear it or not, disappointment will come. Through disappointment, will come clarity, conviction and true originality.
I think these eloquently spoken words were quite true and anyone who's ever faced difficulty or obstacles in their own lives and careers should take heart.
I've decided to self-publish my own manga graphic novels.
It's going to be a long, momentous effort and I will probably get to moments when I'll be regretting those words (in the same way I did after saying, "I want to do an Honor's Thesis!") But I've given this some thought and it's worth it for me to learn the ins-and-outs of publishing if I want to dive into comic business and stay in it for as long as I'd like.
Who am I exactly?
I'm an aspiring comic artist living in Los Angeles. I've been drawing comics since high school (Here's that story in 24HR comic form!) Throughout college, it's what I did on the side. I couldn't afford to go to art school for reasons I could cover in another post but I was recently laid off from my first job post-graduation: a small internet start-up that buckled under the weight of this recession.
In the time since, I've assessed what I want out of my designated time on this planet and I think I want to keep telling stories through my art. While I had come to my love of the medium via animation, I've always felt like my ability and love for making comics is something special. It feels wrong not to keep working on it. So many artists, writers, stories have inspired me throughout the years, I want to do whatever it takes to "pay back" that debt. And perhaps, inspire future artists in my own little way.
Why manga?
Manga is dead. Original English Manga doesn't sell. Didn't you hear Tokyopop just died?
Because this medium (not style) still holds so much promise.
Anime and manga were the gateway to my deeper appreciation of comics. Growing up as a shut-in kid Philippines, there was no other way to come across any other kinds of sequential art, save for my classmates. Even without understanding what I was reading (I had to look up translations online for the imported books I borrowed), I was hooked. I fell head over heels for the art styles, the hilarious expressions and relatable storylines.
Why self-publish?
Early this year, I had the strongest hopes to start my manga career, pinning the majority of this on getting picked by the editors at Yen Press, one of the few reputable manga publishers left soliciting original manga submissions. I was contacted as one of the finalists but they never followed through with providing feedback for the finalists. None of the finalists were guaranteed publication or contracts in the first place but so many like myself had strong hopes to start a career doing something they loved. I understand they are probably busy but the fact they did not give this undertaking some priority was disappointing.
I've decided if I want to see my work in print so badly, why not get it out there myself?
But Laur, you've been talking like this for years! What makes now any different?
Because now, I have a clearer idea of what I want. The first step to achieving any dream is always identifying clear and quantifiable goals. I'm hoping to share what I learn on this journey with, not just with aspiring manga and comic artists, but perhaps also for anyone interested in starting their own business.
I'm going to self-publish my own manga graphic novels.
I could use all the help and all the advice I can get!