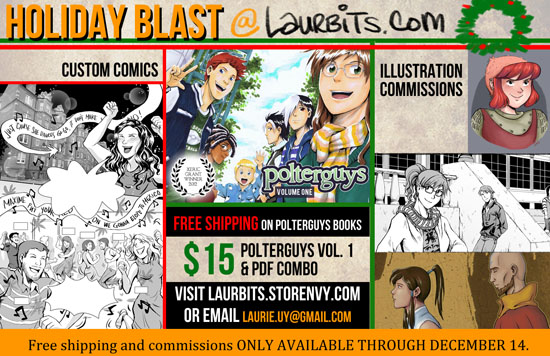 Hi guys, if you're like me and haven't quite finished shopping for holiday gifts yet, consider purchasing a special customized illustration or comic for your loved ones this holiday season!
Also, please know that I will be closing up my Storenvy shop while I am out of town for the holidays. So, in the next two weeks I'm holding a few promos!
Happy Holidays!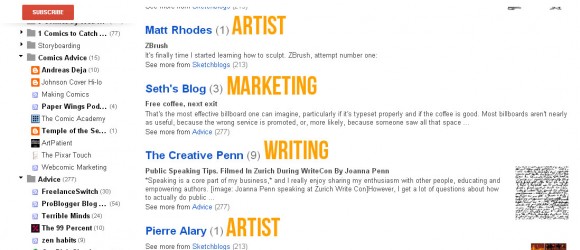 Self-publishing comics is not a route for the lazy.  I'm sure you can get away with exerting the minimum amount of effort but you shouldn't expect blockbuster results and immediately at that. No, pursuing this endeavor requires patience, an open and curious mind and the willingness to experiment and take on unique challenges.
To understand how to be good at it, you have to learn about the different components involved and how to do perform well in each of them. I'm still figuring out many things myself and feel it's a continued learning process. The good news is that they are not usually mutually exclusive and achievements in the beginning can create a snowball effect for the future.
Read More

»
General Updates
You may have noticed the new site design! I still have a lot of clean-up to do but I'm happy to say it should be infinitely more stable than my previous one. As much as I loved the old iteration which enabled me to feature Polterguys on my site, the tinkering I make to get it to behave usually manages to bring the whole thing down somehow. I'm sure glad that's going to be over!
I will be building a stand-alone site for Polterguys in the near future. In the meantime, you can continue to enjoy reading (or re-reading) the comic online on SmackJeeves or on MangaMagazine where I'm currently uploading pages. Don't forget to become a fan or fave us if you happen to read comics on those sites, too! 
Read More

»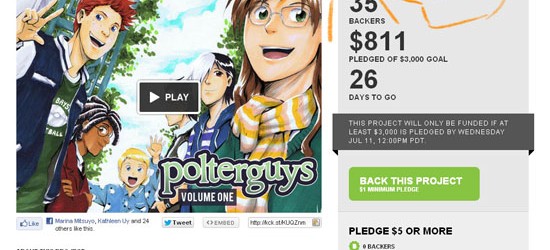 Running a crowdfunding campaign through websites like Kickstarter or IndieGoGo can be incredibly exciting and rewarding. There is a genuine rush seeing friends, family and yes, even complete strangers provide monetary support for your creative project.  It's especially empowering for a beginning creator who doesn't have the financial backing of a professional publisher and must publicize, produce and sell their beloved works out of their own pockets.
While I think there are far more exhaustive posts on the subject out there, I'm interested in sharing the steps which I felt really worked for Polterguys' campaign. I've witnessed the benefits of following these bits of advice firsthand and I truly believe with hard work and patience, anybody can achieve the same results.
Read More

»