TCAF 2013 Recap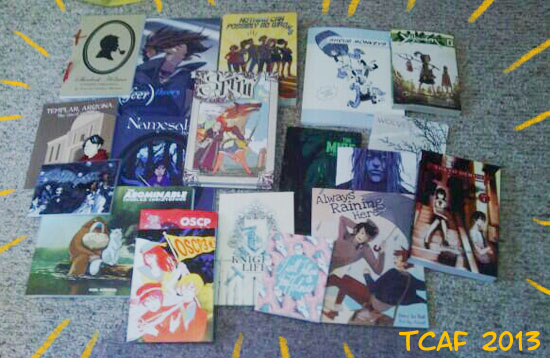 So TCAF last weekend was pretty amazing (as I'm sure you've heard by now!) I met a ton of amazing people: friends I've met before, friends I've only known online and met for the first time, fans who have read Polterguys vol. 1 when it was serializing online and finally, comic heroes I've long admired (and to whom I summoned the nerve to throw my books at. )
Best Moments!
I'll spare you the gratuitous name dropping but my favorite moments were definitely getting to meet Faith Erin Hicks and Svetlana Chmakova. Two female webcomic artists who have truly inspired me to tell stories and make art. However brief our encounter was, I'm still glad I got to fangirl with Faith over Hiromu Arakawa and Naoki Urasawa, of course. And I'm quite happy I got to hang out with Svetlana, Leisl Adams and Dennis Lo at the Bento Box table and talk about Bakuman among other things.
Randomly, I was interviewed twice on camera. Later, I realized it was just because I happened to have a corner table with lots of empty space for an interview set-up.  I'll try to link to those if they ever pop up online but I'm sure I may have come across as a bit loony – I was super excited to be there, remember.
I also got to meet Jennifer Haines from The Dragon bookstore and was incredibly psyched to know she wanted to stock Polterguys books in-store. The Beguiling also ended up buying a few copies as well. I'm so happy these shops were so generous.

Awkward Moments!
And just so you know not everything was all sparkly, a lot of TCAF was me constantly battling my nervousness and general awkwardness around cool people. (It's something I have to work on.) Here's a few:
At the end of the show, I was standing in line to sell some leftover Polterguys books to the Beguiling. Yuko and Ananth asked me if I was the end of the line and even if I what I really wanted to say was, "No, but it's cool since I know you guys, you can cut in front of me so we can talk about how awesome comics are and stuff."  I pointed them to the line stretching out behind me and regretfully let the moment slip. I was not cool enough to let Johnny Wander cut the line! ;_;
I kept disappearing on people over the weekend, forgetting to say goodbye in situations and I feel like I should be sent to Kindergarten Socializing. I wasn't trying to be rude on purpose!  I'm so sorry if I did this to you!
I butchered the name of Becky Cloonan's new comic by asking how much was DEH-MEH-TUR and was told DEE-MEE-TUR was $7. Didn't get to meet her because this was really late on Sunday afternoon. But I'm happy I finally have all her minis.
Final Thoughts
Over the weekend, I spent time with my Uncle and Aunt with whom I was staying with.  Because of that, I couldn't really stay after hours and have long comicking and industry chats with anyone. It's not to say I DIDN'T have any fun hanging out with family but I definitely felt a little torn about it. I also would have loved to make the party (any party!) but my sleep schedule got pretty messed up and I was wiped out by the end of both days.
I never have enough energy to properly stock my table with STUFF. I definitely have a space issue in my apartment and can't hold on to a lot of inventory of anything so I'm very hesitant to make a lot of merchandise. I think this means that Kickstarter backers are going to be spoiled silly since I do want to make a ton of peripheral stuff to the series.
Finally, all this excitement over comics and seeing just how interested people are with the first volume of Polterguys is definitely a huge kick-in-the-butt. I can come up with great excuses why Vol. 2 hasn't been seeing a lot of traction but they're no good when I'm feeling the impatience myself. So, I promise. STUFF WILL GET DONE. SOON.