Polterguys Update: Crunch Time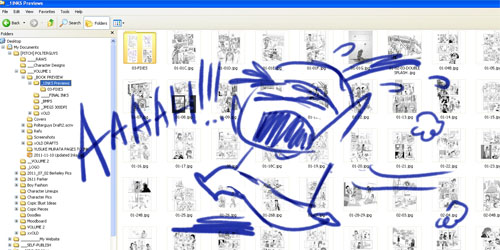 The clock is ticking down to publication day (Ghost Day is June 29, 2012 which is the first day of Anime Expo) and new developments are forcing my hand so I've modified my schedule with the hope I can get the book in my hands by AX.
I recently lost my toning assistant due to health problems over the winter break so to accommodate for more toning work I have to push back on my original date of getting everything done for the printers by the end of March.
January – end of April – BOOK PRODUCTION, INKS/TONES
Three months doesn't feel enough!!! At the same time, I really don't have a choice because working into May might hurt the chances of getting the book printed in time. Of course, I've no one but myself to blame. I could have started inking any of the drafts I've worked on up to this moment but I committed to ironing out problems in logic or character motivations and as you probably know by now, (because I can't stop tweeting about it) that takes up a lot of my time.
January to March – LOGO DESIGN
My Deviantart buddy of many years Afton Palmer is helping me design a logo for Polterguys. I'm a huge fan of brilliant design and below are some of my favorite logotypes from manga. While I think Polterguys falls in a more shojo genre, I'm going to buck the trend and design a logo that doesn't incorporate cursive or any shade of pink because let's be honest, that really isn't me. Can you sense my attraction to bright orange yet?
February/March – ONLINE BOOK RELEASE
I'm pretty sure I will be releasing pages online even before I actually complete work on the book (not my first choice). While I'm not sure exactly when that's going to start happening, I know it needs to happen a few months before I get it printed so people can actually read it and look forward to getting it in print. I think I'm going to rely on eagle-eyed readers to help me catch inconsistencies and errors on the pages as I upload them because as of today, I can't afford a professional editor/proofreader. Will I do everything in my power to deliver my most professional pages? Of course, but it doesn't mean I'm not going to mess up along the way. Hopefully, none of those big messes end up in the final product.
April – CANVASS PRINTERS, CROWDFUNDING CAMPAIGN (via Kickstarter or IndiegoGo)
I'm still a little wary about doing this step just because I'm really not that sure I can launch a successful campaign as a nobody. There's also a million and one things I need to prepare for it (not limited to the presentation and incentives for backers) but the opportunity to make people aware of the project is too good to pass up. I am aware that "manga" is still a problematic tag in the comics community so I am keeping my expectations realistic and hope to reach a niche audience that will be interested in my work.
May – POST-PRODUCTION, PRINTERS
I am looking into a few short-run printers that have experience publishing black/white comics and/or manga in the United States and I would be grateful for any recommendations you  can throw my way.
There  is a certain terror putting up all my plans in public like this. The risk of failures is high, I could possibly hurt my fingers again, and I just might have to fund this book with my own pockets if no one thinks it is has potential. But it also feels like more of a contract and that I'm liable to more people this way. Self-publishing can feel like a loner effort but people have been really supportive and encouraging since I started. I hope I can overcome the challenges coming my way.
Unfortunately, this will be my last blog post for a while as I'd really want to concentrate all my efforts into production. The next time might be to soft-launch the book online or perhaps give updates on any of the other steps. Wish me luck, guys and thank you for being on this journey with me!