Polterguys is now a Featured Comic on MangaMagazine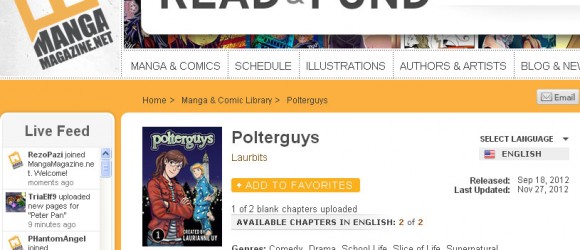 I've already mentioned before how much I appreciated MangaMagazine's contributions to the growing local manga industry and I thought their site would be another great community to introduce my work to. So, I started uploading comic pages and illustrations a few months earlier and have been updating there consistently.
I'm very happy to announce they have invited me to be a Featured user on their site!

I consider myself very fortunate to be included in a roster of such talented fellow artists. (Seriously, they're quite fantastic. Check them all out here. ) I'd like to thank Victor and the MangaMagazine team for their belief in my work and for their enthusiastic support of the manga artists community. Coming from someone who came into the scene fairly late in the game (I think everyone started making webcomics in the 90s!), it's been mind-blowing to see a persisting show of support for manga-influenced comics.
What does this mean for Polterguys?
The wonderful thing about MangaMagazine is that I retain copyright and all rights to my work at all times. I still own Polterguys and I am of course, still allowed to sell my own work under my own name.
What I anticipate will be different is the schedule for updating Volume 2. As I update Volume 1 on MM's site, I'm now on the clock to finish completing a written draft of the second book and prepare pages in advance for publication. Because I had the luxury of publishing chunks of pages for Volume 1, I could complete the graphic novel online in a few months but that's likely going to be extended from now on. My personal process for writing just can't survive on a chapter-to-chapter basis so I need as much time as my schedule can afford me. In other words, Volume 2 is going to come sooner now because of this extra incentive for me but it's going to take a while to update (something like a rate of two pages a week, I think.) What do you guys think? Is that going to be okay with you?
The comic will also now be updating on MangaMagazine first. Since I'm eligible to a share of the monthly pool paid to featured authors based on the amount of traffic I drive to their site, I'm redirecting my marketing efforts there. I think it's a fair deal since I've tossed out my webcomic interface on my site in favor of a more streamlined experience anyway. (The stand-alone site will still be built down the road.)
It's tempting to trace back a straight line starting from my earliest posts here on my site to where I am now and say that I knew where I was going all along. I don't. I never did. I'm still not sure where the future is going to take me but it looks promising and I just need to keep moving forward.
—
If you want to know what it takes to become a Premium and Featured user on MangaMagazine.net, Victor has a blog post describing what they're looking for here. Good luck!