Polterguys Chapter 3 Pages 7-12 are up!


Click to read new pages.
The scene from last week continues. Bree to the rescue!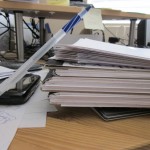 Oh my gosh, this week has been a little crazy! By the time this post shows up, I will have finished preliminary inks for Book 1 of Polterguys! I can't believe it. It really is coming to a finish. Madly working through the fifth chapter now and I have exactly two weeks to finish toning before laying out the book. I said earlier I was going to start pre-orders and contests but that is NOT going to happen in the next two weeks. I'm so sorry! My priority is getting this done in time for AX.
I am desperately going to try and stay away from the interwebs for the next two weeks. It's quite difficult because I still do need to check mail and that almost inevitably pulls me into checking Twitter, Tumblr, DA…and you know how that ends. XD
Also got my Dark Horse merch in the mail! I took pics but haven't sorted through them yet.
Yesterday, I also found out my piece for the Community Art Show in Los Angeles won't just be a digital display at the show-  It will actually be framed and physically present at the show! I will be providing a limited number of prints for sale, too. Ahhh! Such grown up things for my art. First, getting into artbooks, now showing up in gallery spaces? I already feel very fortunate to be a part of this art show, this was just superb icing on the cake.
Very exciting and nerve-wracking times. Thanks for being a part of this journey with me.