Friends in High School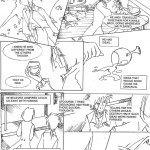 Some of my oldest comics in all its glory

My History with Manga & Comics is a series of blog posts that explore the artists and works of art that have directly inspired my love for drawing and creating stories through comics. 
To recap last week, I talked about how animation, specifically The Little Mermaid and Glen Keane's phenomenal work on that, instilled a drive in me to draw and tell stories.
Friends in High school
It wasn't until I met some fantastic people in high school that both those drives would culminate into the medium that is comics. By then, anime was airing on several channels in the Philippines and as young female fans of these shows, my friends and I proceeded to tell each other our own made-up stories about our favorite characters. We had them romantically involved with our own original characters and had an enormous fun time doing it. Looking back at it now, it's easy to call us foolish but the space in which these stories were told were far from any judgmental eyes. In a pre-internet age, we wrote them down in notebooks and lined paper just for each other. These stories were an irresistible outlet for a mind suddenly eager to create and I relished in any opportunity to make my friends smile and laugh.
(Pictured above)
1) Some of the oldest comics I ever made ca. 1999. Given to my friend in already bad shape being made of pencils on scrap paper. Thank god, she managed to save it by scanning it in.
2) Experimental comic I did where I typed up text and pasted speech bubbles on the page (like a hardcore comic artist!) And guys, I was writing about cool vampires hanging out with loner girls WAY before this whole Twilight nonsense showed up.
3) How most of my comics ended up looking throughout the early 2000s until I switched to ashcan size (half of 8.5×11 paper)
Comics! Comics! Comics!
I drew a lot of comic pages. I drew them in notebooks, scrap paper, discarded office stationery from my mom's business. I didn't really care about presentation because my audience didn't mind. Utilizing story and comic tropes from the archive of animated features and shorts I've seen in my young life, I wrote comics on the fly not even bothering to figure out how I was going to end a story before I started drawing. In fact, I remember how big of a deal it was the day I started using proper panels, gutters and speech balloons.
I think it was the visual style of Archie comics and syndicated newspaper cartoons that helped me learn the language of sequential art and enabled me to entertain my friends. This was very fortunate for me because I was an extremely shy kid and felt like I lacked a lot of social instincts to get along with most of my peers. High school was navigating through a dense forest and comics became my compass. I had something valuable to contribute and it made me feel like I belonged.
Addy, Di, B, Gen, Mystic, Deng, Oli, Cez, Iris, Diane C, Dianne T and others I know I'm forgetting to mention – All my thanks to you!
Next week, I'll be talking about my exposure to real manga pages and webcomics.