How to Make Manga: Keep Track of Your Accomplishments
It's been a little over a year since I finished Final Track, my submission for the 2010 Yen Press Talent Search and I'd like to share  the importance of reviewing and reflecting on your work as an artist.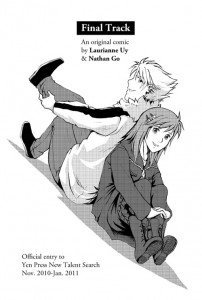 Final Track certainly isn't my first comic project. To date, it's my most polished but I couldn't have gotten it to look the way it does without having done all these fan comics and original short stories before. Yeah, they haven't really aged that well and you must be wondering why I bothered to upload and present old art on my website. I'm not ashamed to say I was incredibly proud of each of these comic pages right after completing them and I firmly believe each one was a stepping stone towards creating my own full length stories someday.
I've always found it a little puzzling when creators advise others "not to look back and just keep moving forward." Sure, there's something to be said about pushing beyond one's boundaries and experimenting to stay creative but I think it's imperative good artists look back at their work: to own the achievement and to assess it with a critical eye.
To reflect and take pride in one's accomplishments psychologically helps you feel like you are going somewhere. Think of them as stepping stones toward the other side of the river. You are achieving experience points along the the journey of being an artist. Hating what you make is a natural part of being a creative individual but try not to let it overwhelm you. Accept that you are performing at the level you are now having improved from where you were before and knowing, with diligence, you can only get better.
To review your accomplishments means you own up to all of the decisions you make working on your projects. Asking yourself questions like "What do you think are the best and worst parts? " and "How can I do better than this?" shows your commitment to your craft. This is one of the habits that separate casual artists from artists with a professional mindset.  Each new project should be a chance to do better than the last. If you regularly aim to surpass your best work, you'd be surprised how quickly you'll improve.
As I tone the first chapter of Polterguys, I compare these pages with Final Track and I'm pleased to say I see a lot of improvement (as well as accompanying areas that still need work.) In many cases, growth can only happen when you're actually working so don't let fear of failure, judgment, or criticism stop you from starting. I'm not sure who said it first but there's a saying that we each have 1000 ugly drawings in us before we actually start drawing well. (For writers, I think it's 3 or 4 bad books before you find your voice.) But my point isn't for you to worry how many drawings you're already in, it's to get your butt in gear and just work already!
Go forth and create!