Fail intelligently.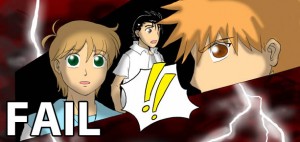 I've failed a lot as an artist. Especially as a comic artist.
I've had periods where I just couldn't find the time to draw. College was a particularly demanding time on account of all the reading.  As an art history student, I was saddled with so much reading every week, I could barely think of drawing. I didn't even own sketchbooks at the time. The ones given to me as gifts stayed unused for years and I always felt bad my sub-par drawings ruined their lovely pages.
My first published webcomic was a disaster. Tres: Crossover Doujinshi is a glorified train wreck. An interesting, kinda fun, but overall mess that even managed to get a TV trope mention. I sacrificed consistency and quality for convenience and my readers shouldn't have had to put up with that. I still get the occasional message asking when I'll update again and this is difficult because it means people were invested in the story and I failed to deliver.
Before that I had several comic ideas I believed were all fantastic and I was always eager to draw for them. I'm not sure why I just couldn't seem to pull through with each project I started. It certainly wasn't lack of planning because I laid out schedules and assignments just as I would undertaking any project. I've had several attempts to start other webcomics online but they didn't really go anywhere because I couldn't see the end of the story in sight. I could see well past that just fine. (Printed books! Posters! Plushies!)  But I never focused on how I was gonna getting there.
I spent some time reassessing my goals and decided I wanted to become a better comic artist and a better writer. I committed to the first goal by drawing everyday. I bought pocket sketchbooks that fit in my bag so I could whip it out anywhere I went. I took life drawing lessons and I'm starting to get a grasp over how the human body can be portrayed. I've read books on the art and craft of screenwriting, most of them available to my writing partner N who majored in it at USC. I'm trying to move past storytelling out of instinct and depending on situations I've seen before to creating material that is truer to the characters I'm portraying. I've rewritten Polterguys over and over again until I was satisfied it was something I could be proud of sharing with you.
Failure is an inevitability. But don't be scared of it. Embrace it, and most importantly, learn from it!
If you liked this post, feel free to hit like or +1 or share it with your friends using the buttons below. 😀