Final Track: Yen Press New Talent Search submission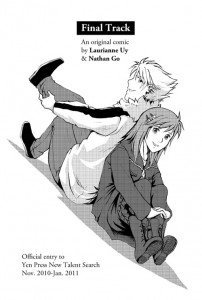 Well, here it is! 2 months worth of blood, sweat and tears. In November last year, Yen Press announced a New Talent Search calling for original 32-page short stories. My writing partner Nathan and I collaborated on this story and I spent most of November through the New Year on the art. We'll see in a few weeks what actually becomes of this story but for now, I'm sharing it with the world because boy am I proud of this sucker.
Unfortunately, the comic was made for print specs so I can't do anything about the terrible moire patterns. If you have an easy way to get rid of them, I'd love to hear it but otherwise, I don't think it's feasible for me to re-tone everything for web.
Don't forget to check out my blog posts if you'd like to know more about the processes involved in making this comic. Thank you for reading, hope you enjoy and do let us know what you think!