Contest Results + New Project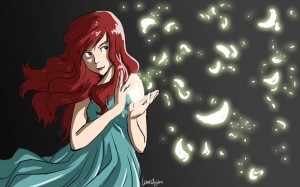 Thanks to everyone who commented over the weekend! You can view the winner's commissions, plus a few more drawings here on tumblr. I was hoping to livestream while I worked on the commissions but it seems to make Photoshop super laggy. Can anybody recommend what I should do? I checked my internet speed which seems to be more than capable and I was using the normal setting. I can try testing it again later since I have one more commission to finish.
My sister Kay stayed over last week and is helping me with preliminary work for my new project.  Together with my youngest sister, we're working out all the tedious mediocrity in my character designs and preliminary thumbnails.  While my love to tell a good story is incredible and vast, my ability to convey exciting visuals is still lacking in some areas. Glad to have an animation student and a fashion-conscious teen go over my designs and push them to the best it can get.
Meanwhile, I also introduced Kay to Baccano while she made me watch Paranoia Agent.
Rewatching Baccano for the first time in English is a delight! Firo and Luck's voice actors are so dreamy.  I'm particularly susceptible to accents so I really recommend Funimation's dubs. Paranoia Agent, on the other hand, may be unsettling but the animation quality is so rich – it really is a must see for fans any animation buff.
Expect another update this week. I'll be showing previews of my new project! I'm pretty excited to share them.