Click to read Final Track on SmackJeeves OR MangaMagazine.net 
Story by Laur Uy & Nathan Go Art by Laur Uy
Thanks to Kay Uy
In November 2010, Yen Press announced a New Talent Search calling for original 32-page short stories. My writing partner Nathan and I collaborated on this story and I spent most of November through the New Year on production. On March 25, 2011 I was informed as being one of the few finalists that the editors felt had much promise!
Final Track is a labor of love and the gratifying experience of completing this work and having it recognized by a reputable manga publisher inspires me to keep making comics.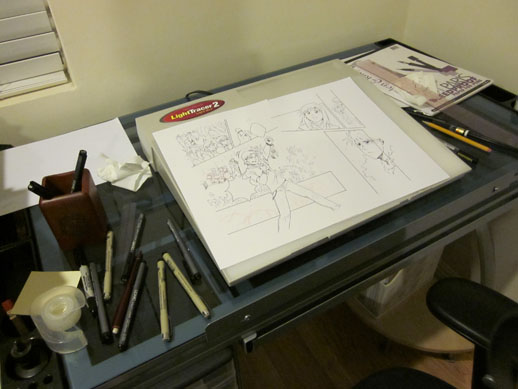 Don't forget to check out my blog posts if you'd like to know more about the processes involved in making this comic. Thank you for reading and hope you enjoy!
Fave+ Final Track on SmackJeeves / Become a fan of Final Track on SmackJeeves

Feedback:
I know what kind of thing it was gonna be a few pages in, and I've certainly read stuff like it before, but you got me. Absolutely teared up on the last couple pages. Been a while since something had me doing that. ~HeavensChaos
I really loved it! The story had a sweetness to it that your art complimented perfectly. I liked that it didn't feel rushed, like some short stories can feel. ~Larita